Ethiopia is a huge country in East Africa, bordered by Eritrea to the north, Djibouti, and Somalia to the east, Sudan and South Sudan to the west and Kenya to the south. It is a place of ancient culture, with archaeological finds dating back more than 3 million years, amazing man-made creations, and really good coffee.
Ethiopia is endowed with rich cultures characterized by great ancestral diversity from different tribes. Each tribe has very distinct customs. Let's take a look at the two tribes below.
Mursi Tribe: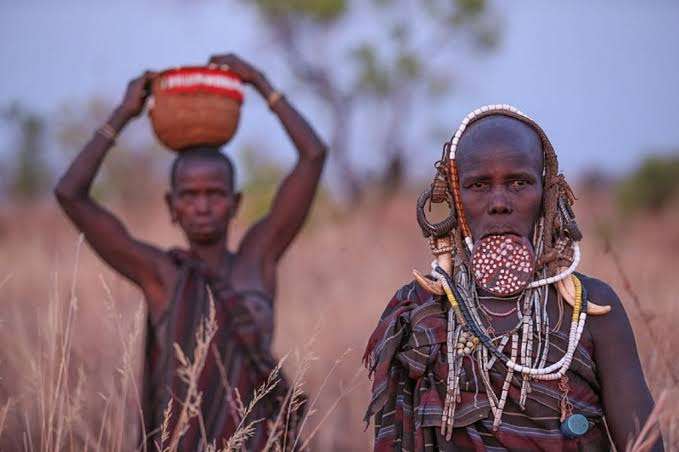 The people of Mursi resides in the Debub Omo Zone of the southern nations, close to the border with South Sudan. They are known for their warrior spirit. They sustain this by maintaining their ancestral traditions called the Dunga, where the criteria to choose a wife and obtain respect is to engage in a battle between young people. Their women are creative, they make use of clay in drawing designs or patterns on their bodies, also wear wood plates in their lips and ears. Their hairstyles are adorned with ornaments. The men are also participating in adorning the decorative attire of wearing plates in both the lips and ears. The decorative mixture is made from natural sources that repel insects especially mosquitoes, and each unique pattern signifies a level of status, elegance, strength, poise, and courage.
Hamar Tribe: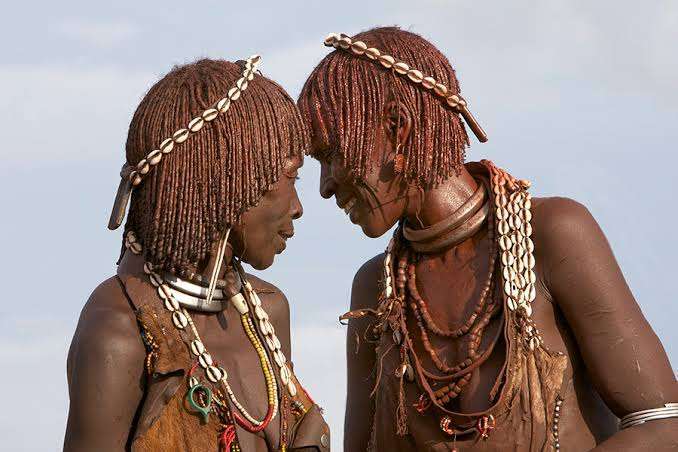 The Hamar people are located among the bush-covered hills on the eastern side of the Omo Valley in southern Ethiopia. The Hamar tribe uniquely distinguished themselves from other tribes by a special ceremony called, 'Ukili Bula' meaning 'man and bull'. Young men are expected to jump over a row of cows four consecutive times to show they are matured. The success of 'ukili bula' gives him the right to choose a wife, own his cattle, and have children. Another intriguing and captivating event that happened before the 'jumping over cows', female relatives of the matured men allowed themselves to be whipped at their bareback to express their support and emotional connection to the celebrants.
Aside from the above unique culture, the Hamar people value jewelry a lot. The adorning of jewelry represents the social status of the wearer. The women are seen wearing cowrie shells, glass, beads, metals, etc. They wear goatskin which scantily covers their upper and lower parts of their body. The women groom their hair with a paste-like substance made of fat and red dust, of which a wooden stylus is used to style the hair.
Africa is wholly rich with an inexhaustible wealth of cultures, crafts, clothing, music, food, religion, and languages. Expressions of cultural diversity are found not only across different countries but also within single countries. The above are snippets of what Africa entails.
Quote:
'
When a man is a traveler, the world is his house and the sky is his roof, where he hangs his hat is his home, and all the people are his family'.- Drew Bundini Brown